PC Buyer offers computer monitors that range from large 30-inch screens to smaller 16-inch screen. There are lots of computer monitors with Full HD and 4K Ultra HD screens available today at very affordable prices! A large, new monitor is a great way to get the full, immersive experience of your laptop or desktop computer. Remember this Breakdown when shopping for a monitor. The more pixels, the better the clarity of the picture.

HD: 720p image resolution (1,280 x 720 pixels – approximately 1 million total pixels)
Full HD: 1080p image resolution (1,920 x 1,080 pixels – approximately 2 million total pixels)
Ultra HD: 4K image resolution (3,840 x 2,160 pixels – approximately 8 million total pixels)
---
Compare Monitor Prices Now
Search Computer Monitor prices from leading online stores such as Amazon, eBay, Walmart, Sam's Club, NewEgg and more…
(Note: PC Buyer may receive a fee if you purchase an item on this site)

Important Notes
Please remember, PC Buyer does not guarantee or make any representations as to the following Computer Monitor prices or stated conditions of the items listed on our website. We are simply searching the Internet for the best advertised deals and presenting that raw, data and pricing to you. Always be a smart shopper!
Recent Computer Monitor Reviews
Best Selling Monitors
Touchscreen Computer Monitors
Many Monitors today offer touchscreen capability. These are perfect for home entertainment and using a computer with kids. Similar in functionality to a smart phone or tablet, you can swipe effortlessly through images, launch programs with the touch of a finger, or enjoy touch-based gaming. If you do decide on a touch-screen monitor, focus on models with stands that can easily be adjusted and convenient to "touch" from where you are sitting.


IPS LED Monitors – High Definition
IPS (In-plane switching) is a screen technology for LCDs in Monitors. They are widely know for display consistency, accurate color from all viewing angles and they do not lighten or show tailing when touched. But they have disadvantages too… they expensive to produce, use slightly more power and have a longer response time. IPS is a display panel technology.


LED Monitors – High Definition
Many monitors use a liquid-crystal (LCD) displays. This type of computer screen produces a quality image and can do so at a very affordable price. Light-emitting diode, or LED monitors are LCD monitors, but they use back-lighting to produce even brighter, more vibrant images, all while consuming less power in a thinner design. LED Monitors come in High Definition, Ultra High Definition and 4K.


4K & 5K UHD Monitors
This is the Rolls Royce of Monitors. Boasting stunning 4K and 5K resolution for the finest clarity and detail available in the market today. This resolution offers 3840 horizontal pixels and 2160 vertical pixels and the vertical component is close to 4000, which is where '4K' comes originates from. 3840 x 2160 resolution provides 4 times as many pixels as 'Full HD' (1920 x 1080 or 1080p) offers and 2.25 times as many as 'WQHD' (2560 x 1440). Often called Ultra High Definition.


Monitor Size
One of the primary features to consider when buying a new monitor is the size. A workstation designed for simple word processing or spreadsheets may not require a large amount of screen space, so you often do not need a larger screen. if you use graphical type programs that process images and videos, and are more demanding, you will enjoy a much larger screen size for ample viewing space.
Resolution
Another key consideration is the resolution of the monitor. Graphically intensive work with images is more easily accomplished with a high resolution that creates sharp picture quality, so consider 1080p or even 4K monitors that provide crisp, accurate images. When a monitor is used primarily for surfing the Web, a lower resolution would be fine.
Computer Books and Guides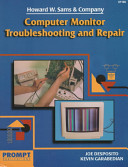 Computer Monitor Troubleshooting and Repair
Prompt. 1997

This book can save you the money and hassle of computer monitor repair by showing you how to fix it yourself. Technicians, hobbyists, and entrepreneurs will benefit from this book, which takes the reader through the basics and on to troubleshooting circuits.